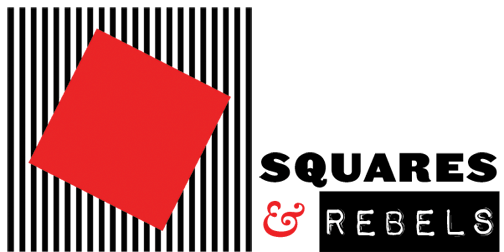 books | shop | mollyhouse | about | facebook


About Us

Some of us grow up as squares, and some of us grow up as rebels. Sometimes it's the other way around. More so when we grow up feeling different here in the Midwest and elsewhere. And sometimes, when we're done with living with our parents, we rebel and surprise ourselves in the most shocking ways.

In 2012, Squares & Rebels was created by Handtype Press to bring out books initially about the LGBT experience in the Midwest. With the publication of QDA: A Queer Disability Anthology, however, S&R has expanded its focus to include books that explore the queer and/or disability experience regardless of one's region of origin.

S&R is unfortunately closed to submissions until February 2021. (However, if you are a Deaf writer, please check out Handtype Press and see whether your project might make a good fit for us. We are still accepting queries there.)



How to Query

S&R is unfortunately closed to submissions until February 2021; you can query us at that time.

Squares & Rebels is primarily interested in prose. Short story collections that revolve around a certain era or a place in time would pique our interest, more so if it involves the LGBT community, the disability experience, and/or other intersectionalities. Novellas (approximately 40K words) and nonfiction and/or essay collections (especially of the lyrical variety and approx. 40K words) are also welcome. We are open to publishing the occasional poetry collection, but please keep in mind that such titles should have a focus on history and/or the disability experience for consideration. We publish usually two books a year to allow us plenty of time to work with each writer. Our titles are below. (Of course, your purchases will always be appreciated!)

You may query the publisher about your completed project along with a brief description and the first 25 pages of material. We prefer single-author works only. No proposals for unfinished books, please. Response times may vary, but you are welcome to follow up after a month. The address is below.

Thank you for considering Squares & Rebels.



Our list so far ...

We Are Not Your Metaphor: A Disability Poetry Anthology

edited by Zoeglossia Fellows
Lovejets: Queer Male Poets on 200 Years of Walt Whitman
edited by Raymond Luczak
That Was Something: A Novel
written by Dan Callahan
London Skin & Bones: The Finsbury Park Stories
written by Ian Young
It's Just Nerves: Notes on a Disability
written by Kelly Davio
At Danceteria and Other Stories
written by Philip Dean Walker

The Kiss of Walt Whitman Still on My Lips
written by Raymond Luczak
QDA: A Queer Disability Anthology
edited by Raymond Luczak
Lincoln Avenue: Chicago Stories
written by Gregg Shapiro
When We Become Weavers:
Queer Female Poets on the Midwestern Experience
edited by Kate Lynn Hibbard
Queer & Celtic:
On the Irish LGBT Experience
edited by Wesley J. Koster
Among the Leaves:
Queer Male Poets on the Midwestern Experience
edited by Raymond Luczak

Site copyright © 2020 by
Handtype Press, LLC.
All rights reserved.