books | shop | mollyhouse guidelines | about | facebook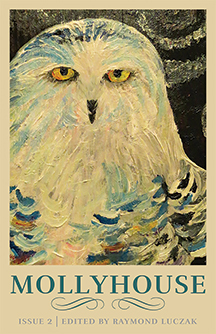 The second issue is right here!

This second issue of Mollyhouse features artwork by Kris Ringman as well as poetry and prose by Geer Austin | Bryan Borland | Guillermo Filice Castro | Linda M. Crate | Ron Drummond | Giovanna Fregni | Tor Lowell | Jonathan Mack | Bill Mathis | Stephen Mead | Maed Rill Monte | Kris Ringman | Sarah Sarai | Lucas Scheelk | Lawrence Schimel | Beth Seetch | Patricia Walsh | Lynn White | Les K. Wright. This issue is edited by Raymond Luczak.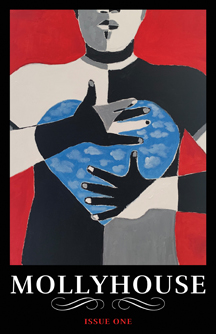 And the first issue is over here!
This inaugural issue of Mollyhouse features artwork by Yusuf Yahya as well as poetry and prose by M.J. (Michael Joseph) Arcangelini | Stuart Barnes | Dustin Brookshire | Don Cellini | Steven Cordova | Alfred Corn | Theodore Cornwell | Brenton Cross | Joseph L. Cumer | David Cummer | Denise Duhamel | Arthur Durkee | Cher Finver | Stephanie Heit | Scott Hightower | Walter Holland | George K. Ilsley | Mike James | Jee Leong Koh | Petra Kuppers | Denise Leto | Sean J. Mahoney | Ron Mohring | Chael Needle | Eric Thomas Norris | William Reichard | Gregg Shapiro | Allen Smith | Victor Barnuevo Velasco | Philip Dean Walker | Mark Ward | Julene Tripp Weaver | Diane R. Wiener | Scott Wiggerman | Kathi Wolfe. This issue is edited by Raymond Luczak.

Where can you download a free copy of Mollyhouse?

The best place to find the first issue is right here on Smashwords. It has all the major ebook formats that you can download for your preferred ereader.

For those who prefer to read on their favorite Apple devices (iPhone, iPad, etc.), you should be able to search for "Mollyhouse" in the Apple Bookstore. (As of this writing, it hasn't appeared there yet, but I will add a direct link here once it does.)

If you'd like to read the latest issue on your Kindle, there's an unfortunate problem. Apparently, Amazon does not allow publishers to offer free ebooks, so please go to Smashwords and download your .mobi file. If you don't know how to add a non-Amazon ebook to your Kindle reader, please check out this link.

Follow us on social media:

Twitter: @mollyhouse15
Facebook: facebook.com/mollyhouse15
Site: mollyhouse.org

If you've purchased a Squares & Rebels (or Handtype Press) title in the past, we remain most grateful.

Our list so far ...

Better Davis and Other Stories
(forthcoming in June 2021)
written by Philip Dean Walker
We Are Not Your Metaphor: A Disability Poetry Anthology
edited by Zoeglossia Fellows
Lovejets: Queer Male Poets on 200 Years of Walt Whitman
edited by Raymond Luczak
That Was Something: A Novel
written by Dan Callahan
London Skin & Bones: The Finsbury Park Stories
written by Ian Young
It's Just Nerves: Notes on a Disability
written by Kelly Davio
At Danceteria and Other Stories
written by Philip Dean Walker

The Kiss of Walt Whitman Still on My Lips
written by Raymond Luczak
QDA: A Queer Disability Anthology
edited by Raymond Luczak
Lincoln Avenue: Chicago Stories
written by Gregg Shapiro
When We Become Weavers:
Queer Female Poets on the Midwestern Experience
edited by Kate Lynn Hibbard
Queer & Celtic:
On the Irish LGBT Experience
edited by Wesley J. Koster
Among the Leaves:
Queer Male Poets on the Midwestern Experience
edited by Raymond Luczak

Site copyright © 2021 by
Handtype Press, LLC.
All rights reserved.